The year after fellow Ranger actor
Nakia Burrise
appeared on "Sabrina, the Teenage Witch," Sean Cw Johnson
(Carter, Lightspeed)
followed in her footsteps. Johnson played a small role in the show's sixth season finale titled "I Fall to Pieces." He appears in the show's final sequence which acted as a cliffhanger. After the wedding of her Aunt Hilda, Sabrina goes inside their house with a broken heel from her shoe. She arrives to see the delivery man putting the final touches on her aunt's wedding cake. Sean Cw Johnson plays the delivery guy, who introduces himself as Luke. Despite having a boyfriend, Sabrina & Luke seem to take an interest in one another, especially when he offers to help fix her broken heel. At that moment, her boyfriend Josh and her ex-boyfriend Harvey both walk in, professing their love for her. Before Sabrina can make a decision, all three men announce they're leaving forever. Thanks to a spell about losing true love, Sabrina then turns to stone and breaks into several pieces. Despite the cliffhanger, Johnson did not return for the show's seventh season. PR alums,
Walter Emanuel Jones
,
Edward Laurence Albert
and
Nakia Burrise
were also featured on the blog for appearing on "Sabrina, the Teenage Witch."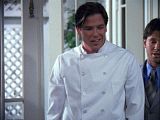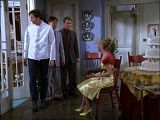 Season 6 of
"Sabrina, the Teenage Witch"
is available on DVD
Previous
Sean Cw Johnson Television
posts