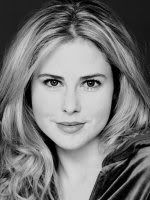 Anna Hutchison
(Lily, Jungle Fury)
hit the big screen in the horror thriller "The Cabin in the Woods." The film follows a group of five college students who head out for a weekend in a secluded cabin, only to discover that they are at the mercy of demonic creatures. What the group doesn't realize is that their path to destruction has been constructed by a covert group, with a mysterious agenda. Hutchison plays Jules Louden, a pre-med student who begins to exhibit odd behavior after dying her hair blond. During the weekend, Jules begins to lose her inhibitions, as she is being influenced by the dye in her hair. When she heads out to the woods with her boyfriend Kurt (played by
Thor's
Chris Hemsworth), the two are attacked by backwoods zombies, seemingly unleashed by her best friend Dana's reading of an old diary found in the basement of the cabin. Chris Hemsworth, who plays Hutchison's love interest in this film, previously starred on the Australian soap opera,
"Home and Away"
, where he played the best friend of Anna's
Jungle Fury
co-star, Jason Smith. Given Hutchison's major role in the film, a full zip of her screencaps is available below.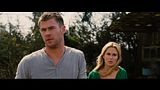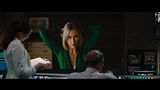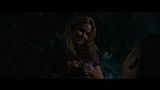 Click Here to Download All 83 Screencaps
"The Cabin in the Woods"
is available on DVD
Previous Anna Hutchison posts