Katrina Browne
(Kapri, Ninja Storm)
made a major guest appearance during the fourth season of the action series "Hercules: The Legendary Journeys." Browne appeared in the episode "Prodigal Sister" as Siri, a woman who is taken from her family at a young age and raised as a vengeful Amazon, who believes that her parents abandoned her, when in fact they were killed by the woman who raised her and blinded her brother, who comes looking for her with Hercules' help. Browne appeared in several scenes of the episode opposite the show's star Kevin Sorbo and would return in another role on the series during Season 6. Given her major role, a full zip of her screencaps is available for download below.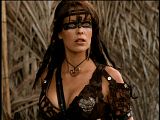 Click Here to Download All 32 Screencaps
Season 4 of
"Hercules: The Legendary Journeys"
is available on DVD
Previous

Katrina Browne

posts