Archie Kao
(Kai, Lost Galaxy)
continued his recurring role on "CSI: Crime Scene Investigation" when the series returned for its ninth season. Kao plays Archie Johnson, a member of the CSI tech team, which as a whole deals with the loss of one of their own after Warrick Brown (series regular Gary Dourdan) is found murdered at the beginning of the episode. Archie assists Nick Stokes in his investigation and is later seen at the funeral service for Warrick. He appears in three scenes of the appropriately-titled episode "For Warrick."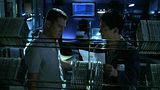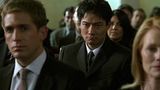 Season 9 of
"CSI: Crime Scene Investigation"
currently airs on CBS
Previous
Archie Kao on "CSI"
posts
Previous
Archie Kao
posts