The final episode of "Spartacus: Blood and Sand's" first season featured PR actor Andrew Laing
(voice of Venjix, RPM)
. The episode titled "Kill Them All," finds the upper class of Roman society descending upon the House of Batiatus for a special viewing of the villain's gladiators. Laing appears as the magistrate, Sextus, who is surprised when it is announced (via forged letter) that Batiatus' new patron, Claudius Glaber, has recommended Batiatus for a position that would place him only shades away from the political office of magistrate. Sextus is eager to discuss the issue with Batiatus, but the gladiator exhibition soon turns out of hand as Spartacus leads a revolt against the House of Batiatus. Sextus is the first to be killed when Spartacus lunges for Batiatus, who pulls Sextus in front of him to shield himself, causing Spartacus' blade to slice right through his head. As a result, some of the screencaps below feature graphic violence.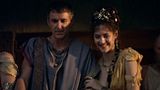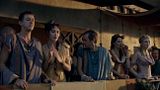 Season 1 of
"Spartacus: Blood and Sand"
is available on DVD
Previous
"Spartacus: Blood and Sand"
posts
Previous
Andrew Laing
posts