Deborah Estelle Philips
(Katie, Time Force)
continued her starring role on the web series, "The Cavenaughs," appearing in the fourth and fifth episodes. Her character, Charlotte a.k.a. Charley has kept her distance from her friends and ex-
Cavenaughs
co-stars in the wake of her cancelled wedding but Charley shows up to see Maddie & Noreen in the episode titled "Half a Moment." The three shares drinks, as Charley fills them in on how she's been coping by keeping a journal and how her family remains upset about the revelation that she's a lesbian. Charley tells the duo that she's eager to get back into acting and hopes that
The Cavenaughs
(the series within the web series) will return. The fifth episode, "Stop! Wait! Please!" has Charley running into another of her former co-stars, Mark, on her way to meet a photographer. The two friends catch-up and when Charley asks Mark about rejoining the resurgent series, he doesn't think it's a good idea given his problems with another of the cast. He does agree to have drinks with Charley and the cast, though. Both episodes run less than 9 minutes.
Episode #4 - "Half a Moment"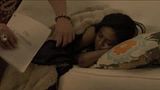 Episode #5 - "Stop! Wait! Please!"
Episodes 4 & 5 of
"The Cavenaughs"
can be seen on
Youtube
Previous Deborah Estelle Philips posts