Katrina Browne
(Kapri, Ninja Storm)
made her second appearance on "Xena: Warrior Princess" during its fourth season. In the episode "Locked Up and Tied Down," Xena is persecuted for the murder of a beautiful young woman named Thalassa, whom she trapped during her years of evil. Browne portrays Thalassa in flashbacks. When Xena is sentenced to prison on Shark Island, she once again encounters Thalassa who turns out to be the commandant of the facility, seeking revenge on Xena for the disfiguring attack she sentenced her to years before. Browne appears in several scenes opposite series star Lucy Lawless. A full zip of screencaps is available for download below the preview pics.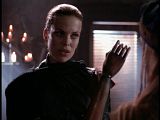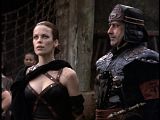 Click Here to Download All 23 Screencaps
Season 4 of
"Xena: Warrior Princess"
is available on DVD
Previous

Katrina Browne

posts