Karim Prince
(Cestro, MMPR-Zeo)
guest starred as one of the Knights of Byzantium during this fifth season episode of "Buffy the Vampire Slayer." During the episode titled "Spiral," Prince leads the knights on a quest to destroy The Key before it can be taken by the demon Glory. Since The Key is embodied by Buffy's sister Dawn, the Knights run into trouble. In the end, they are slaughtered by Glory who escapes with Dawn in tow. Despite his small role, Prince has a few speaking lines and interacts with series star Sarah Michelle Gellar.
* Special thanks to Tom for the screencaps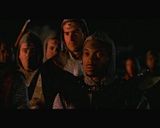 Season 5 of
"Buffy the Vampire Slayer"
is available on DVD
Previous

Karim Prince

posts