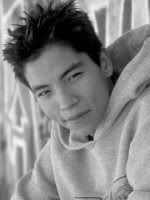 Jorgito Vargas Jr.
(Blake, Ninja Storm)
appeared briefly in the television movie "Journey to the Center of the Earth." Not to be confused with the recent big screen feature starring Brendan Fraser, this TV movie aired in January and is loosely based on the original Jules Verne novel. Adventurer Jonathan Brock (played by Rick Schroder) leads an expedition to find the missing husband of the rich Martha Dennison (played by Victoria Pratt). The group soon finds themselves in a hidden world at the center of Earth. They are at the mercy of a rogue tribe of natives, known as the Wakinta. Jorgito Vargas Jr. appears as one of the Wakinta, who attacks in an effort to free members of the tribe that have been taken prisoner by the natives who worship Martha's husband as a god since his arrival. Vargas has no lines.
"Journey to the Center of the Earth"
is available on DVD
Previous

Jorgito Vargas Jr.

posts