Sarah Brown
(Heather, Zeo)
made a guest appearance on "Without a Trace" during the show's very first season. Brown appeared in the episode "Kam Li," which revolves around the disappearance of a newly-retired army colonel, Bull Carver, who vanishes shortly after his retirement party. Brown's character Tess Balkin is Carver's daughter who is interviewed by the detectives. She reveals that they were never close but her father came to her, revealing his forced retirement and wanting to change his will so that his grandchildren will be taken care of. Tess tells the investigators that it was an odd conversation. Despite their estrangement, she regrets not being closer to her dad, given his disappearance. In the end, the detectives discover that Bull had a suicide pact with his old comrades to be fulfilled upon their retirements. Sarah Brown is the fourth PR alum to be featured on the blog for appearing on "Without a Trace."
Jack Guzman
,
Erin Cahill & Jordan Belfi
were previously posted.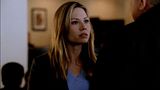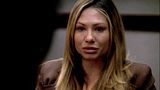 Season 1 of
"Without a Trace"
is available on DVD
Previous
Sarah Brown
posts