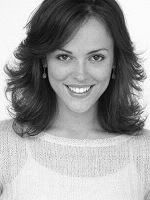 Erin Cahill
(Jen, Time Force)
continued her recurring role on the cop drama "Saving Grace" in the fifth & sixth episodes of the show's third season. Cahill portrays Kendra Burke, news reporter and fiancé of one of the show's main cops, Butch Ada (played by Bailey Chase). In the episode "Moooooooo," the detectives look into a case of several dead cows but before getting the call, they all enjoy a group dinner together at the local bar. Kendra is present for the meal at the side of her boyfriend Butch. Cahill appears only briefly in the opening scene of the episode. She followed that up with another brief stint in the next episode "Am I Going to Lose Her?" where main character Detective Grace Hanadarko (series star Holly Hunter) is abducted, possibly by the rapist whom the detectives are trying to track down. This causes tensions to run high at the police station where a fight breaks out between Butch & fellow cop Ham Dewey (who is romantically involved with Grace). They have opposing views on how to proceed with the investigation and Ham accuses Kendra of trying to capitalize on the matter. As they fight, she tells her fiancé's partner the real reason she's there, which has nothing to do with exploitation. Screencaps from both episodes are below.
Episode 3x5 - "Moooooooo"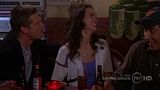 Episode 3x6 - "Am I Going to Lose Her?"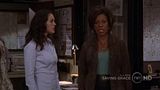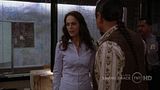 Previous
Erin Cahill
posts