Jason Smith's
(Casey, Jungle Fury)
character, Robbie Hunter, found himself full of fury in Episode #4147. After his wife Tasha's collapse at their wedding reception, Robbie is worried about her health. But Tasha is more worried about the truth. She learns from the doctor that she's pregnant, even though she & Robbie haven't slept together. Tasha realizes the pregnancy is a result of her time in the cult known as The Believers. When she tells Robbie about the rape & pregnancy, the usually-sensitive joker is out for blood. He goes to the prison where Tasha's rapist, Jonah is being held. Robbie demands to see him but he's stopped by the guards outside. When he tries to force his way inside, he's thrown out. He then runs into another former member of the cult, Charity who tells him about the mayor's connection to The Believers, which gives Robbie his next target.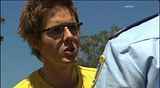 "Home and Away"
currently airs on Seven Network (Australia)
Previous
Jason Smith on "Home and Away"
posts