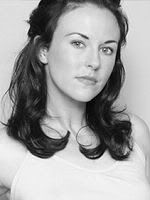 Michelle Langstone
(Kat, SPD)
continued her recurring role on "McLeod's Daughters" into the tenth episode of Season 6. Langstone appears in her role as Fiona Webb, who is engaged to marry Alex Ryan, which forces her to deal with his best friend Stevie Hall, from the neighboring McLeod family. Alex puts the two women together when it's time for Fiona to buy her first horse. Stevie takes control of the outing, to Fiona's dismay. Stevie makes Fiona buy the first horse she rides when she gets a good deal. They later discover the horse dealer switched the horse with an identical wild mare who throws Fiona when she gets the horse home. Despite their strained relationship, the women team up together to get the real horse back, so they don't lose the money they paid.
Season 6 of
"McLeod's Daughters"
is available on DVD
Previous
"McLeod's Daughters"
posts
Previous
Michelle Langstone
posts