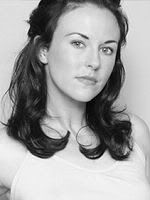 Michelle Langstone
(Kat Manx, SPD)
continued her recurring role on "McLeod's Daughters" in the fourteenth episode of the show's sixth season. Langstone appears as Fiona Webb, the fiancée of Alex Ryan who is mourning the sudden death of his mogul father Harry Ryan. In the episode titled "The Legend of Harry Ryan," the two are planning his funeral and eulogy when they discover a boxing medal belonging to Karl Weatherdon amongst his hidden belongings. Alex & Fiona do some research and discover that Harry was actually Karl Weatherdon, a young boxing sensation who disappeared amidst problems with his father, never to be seen again. Alex is even more stunned to discover his father had a younger brother who never knew him. Fiona is with Alex when he meets his uncle and at his side at his father's funeral. Given her prominence in this episode, a full zip of Michelle Langstone's screencaps is available to download.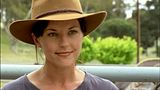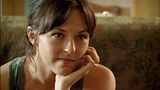 Click Here to Download All 21 Screencaps
Season 6 of
"McLeod's Daughters"
is available on DVD
Previous
"McLeod's Daughters"
posts
Previous
Michelle Langstone
posts